Apple Logic Pro is a powerful digital audio workstation (DAW) used by professionals and amateurs alike for music production, recording, and mixing. Originally developed by Emagic in 1990, Apple acquired the software in 2002 and has since released several updates and improvements, making Logic Pro one of the most advanced and versatile music production tools available.
In this blog, we'll take a detailed look at the features and functionalities of Apple Logic Pro, including its user interface, audio recording, MIDI sequencing, virtual instruments, audio effects, mixing, Flex Time, Drummer, Smart Tempo, and sound library.
User Interface: Logic Pro's user interface is designed to be intuitive and easy to use. The customizable workspace allows users to adjust the layout to their preferences, and it features a number of tools and controls, including a mixer, virtual instruments, and audio effects.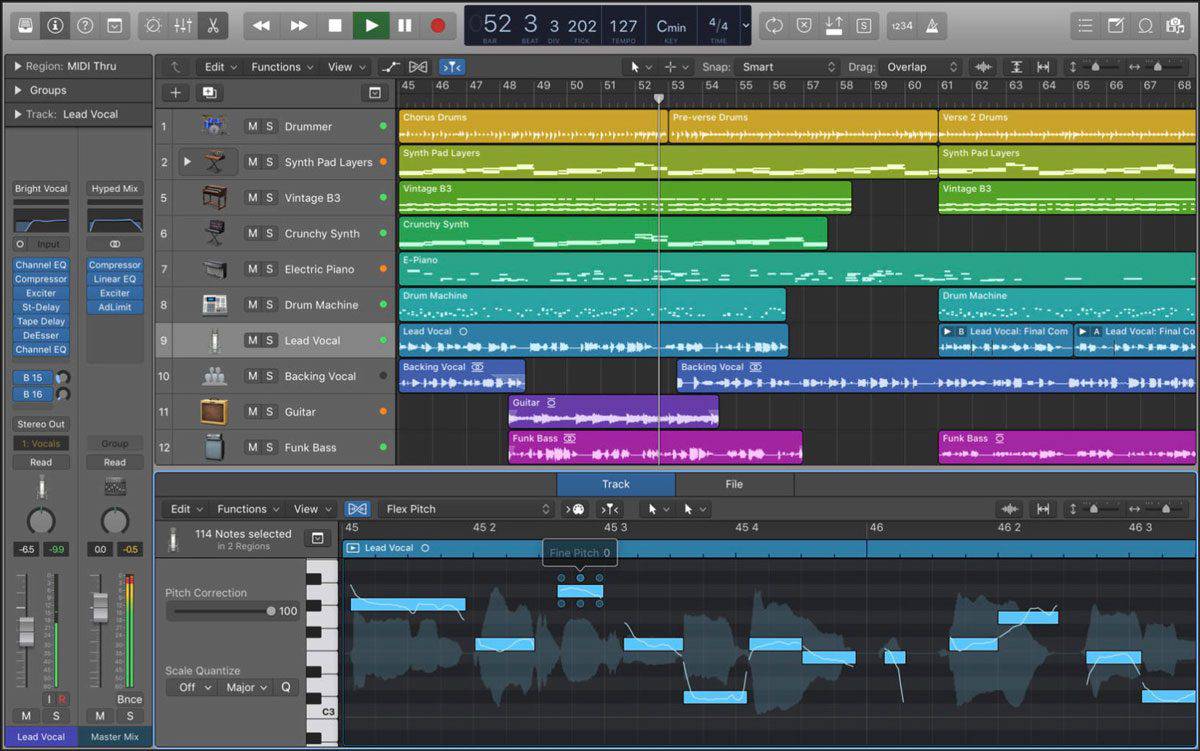 Audio Recording: Logic Pro provides a robust audio recording feature that allows users to record live instruments, vocals, and other sounds directly into the software. The software supports up to 255 audio tracks, with a maximum sample rate of 192kHz. Users can also apply different recording techniques like multi-take recording, punch recording, and cycle recording.

MIDI Sequencing: Logic Pro includes a powerful MIDI sequencing feature that allows users to create and edit MIDI data directly within the software. Users can input MIDI notes via a MIDI keyboard or using Logic Pro's built-in virtual piano roll. The MIDI editing capabilities of Logic Pro are top-notch, providing users with advanced control over their MIDI sequences.

Virtual Instruments: Logic Pro includes a wide variety of virtual instruments, including synthesizers, samplers, and drum machines. These instruments can be used to create and manipulate sounds in real-time, with extensive control over parameters such as filters, envelopes, and modulation. Users can also create their own virtual instruments and effects using Apple's built-in tools like the Scripter and Environment.

Audio Effects: Logic Pro includes a comprehensive set of audio effects, including EQ, compression, reverb, delay, and distortion. These effects can be applied to individual tracks or to the entire mix, and can be automated for dynamic changes over time. Logic Pro's Audio Unit (AU) support also allows users to load third-party plugins.

Mixing: Logic Pro provides a professional-grade mixing console that allows users to mix and master their music with precision and control. The mixer features a variety of controls, including faders, pan knobs, and EQ and compression settings. The user can also set up headphone mixes for performers with the help of the Cue Mix feature.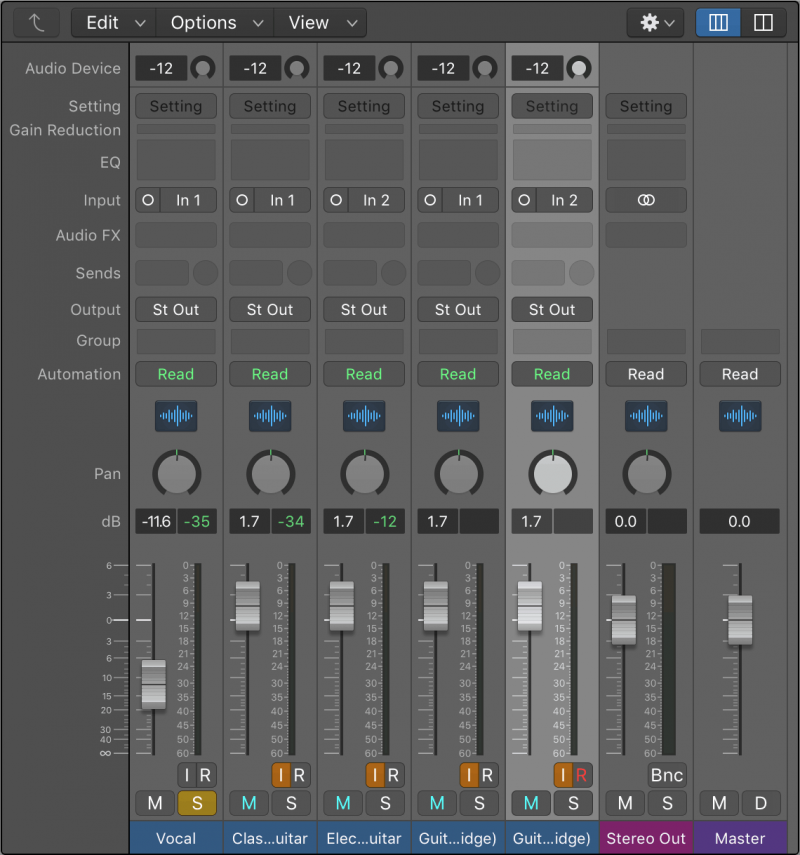 Flex Time: Logic Pro's Flex Time feature allows users to adjust the timing of audio recordings and MIDI sequences. This feature makes it easy to correct timing errors or create rhythmic variations. Flex Time also provides advanced time-stretching algorithms that preserve the pitch of the audio and MIDI.

Drummer: Logic Pro's Drummer feature provides users with a virtual drummer that can play a variety of styles, from rock to jazz to electronic music. The Drummer can be customized to fit the needs of the song, with control over groove, fill, and swing. The Drummer's AI-powered engine adjusts the playing style of the virtual drummer according to the other instruments and the song's genre.

Smart Tempo: Smart Tempo is a feature that allows Logic Pro to automatically detect the tempo of an audio recording or MIDI sequence, making it easy to match the tempo of different parts of a song. Smart Tempo also allows users to adjust the tempo of the entire project without affecting the pitch of the audio.

Sound Library: Logic Pro includes a massive sound library that contains thousands of sounds, loops, and samples. These can be used to create new compositions or to augment existing ones.

Conclusion:
Apple Logic Pro is an incredibly powerful and flexible music production tool that offers a wide range of features and capabilities. With its intuitive user interface, powerful audio recording and editing tools, and extensive virtual instrument and effects libraries, Logic Pro is a must-have for any serious musician or music producer. Whether you're a professional or an amateur, Logic Pro provides everything you need to create high-quality music quickly and easily.
You can buy Apple Login pro Lifetime Subscrption from this link – https://keys-shop.in/product/apple-logic-pro-redemption-code-lifetime/